Fostering For AZSDR
If you've ever considered fostering for a rescue, Arizona Small Dog Rescue is in need of generous animal lovers like yourself. In Phoenix and across the valley, we're always looking for those interested in fostering to help us save as many dogs as possible. By participating in our foster program, you'll be providing these precious animals with a home, shelter, and love while we locate the right forever home to pair them with. It's a demanding job, but the reward of helping save lives and knowing you helped prepare these little souls for the loving homes they deserve is more than worth it!
Ready to become a foster and help us save lives? click here to begin your fostering adventures with Arizona Small Dog Rescue and enrich the life of an animal in need.
How Does Fostering Work?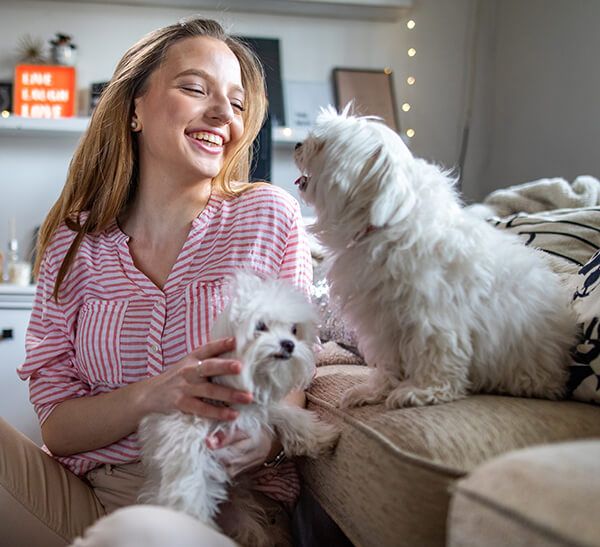 There are all types of dogs that come into our care that are in need of a foster. Puppies, mom and pups, senior dogs, large dogs, and even medical dogs routinely need a foster home. Your responsibility is to care for the animal and get to know it to help us evaluate the dog to find the right forever home. These dogs come from a variety of situations including previously abusive environments, so many need extra care and attention before they're ready to be put up for adoption.
You won't be on your own as a foster, though! Arizona Small Dog Rescue pays for all medical expenses for your foster dog. We also provide you with everything you would need, such as a kennel, food, toys, dishes, etc. We will accommodate as much as resources allow.
Qualifications and Considerations for Fostering
A great foster parent isn't just an animal lover! In addition to being a generous, loving person, you'll also need to take into consideration many other factors to be the best possible foster parent to the animals in your care.
The length of time between fostering and adoption can vary greatly, and different foster pets will require more or less support to get them ready for adoption. Here are some important thing to consider if you're interested in becoming one of our foster parents:
Space and Clean-Up

Foster pets will sometimes need their own enclosed area away from your companion animals, and some fosters may need to be around other animals for socialization. It's important to make sure there is adequate space either way (along with cooperative family members and/or roommates!). Your current pets also need to be up-to-date with all vaccinations before you can be involved in our dog foster program.

Depending on the animal, there can be quite a bit of clean-up involved in fostering you'll need to be ready for. Your furniture and belongings can be damaged by the animals, but if you prepare accordingly most of this can be avoided. Still, it's important to note the risk before diving in.

Additionally, if you currently rent your home, you will need to ensure your lease agreement allows for pets, as well as get permission from your landlord and comply with their pet requirements, including any fees they stipulate.
Health and Behavior Monitoring

Another role you'll play as a foster parent is that of monitoring the health of your foster pet. Signs of illness, worsening of symptoms, or injury need to be identified, observed, and reported to your foster care coordinator. In the case of an emergency, you'll also need to be able to get to the shelter's veterinarian quickly.
Preparing for Adoption

Your efforts to prepare your foster pet for a loving forever home can take weeks, months, or longer. This rewarding process is more than just saving a life, and is a respected and highly valued volunteer service to the animals in our community. During this time, you will likely become very emotionally attached to your foster pet. You'll need to be ready to deal with the tears when your foster pet is paired with a forever home!

You'll also need to be ready to explain to friends and family that meet your foster pet that the animal is not yours to adopt out. If they are interested in adopting, they will need to go through our normal adoption process. We're happy to provide you with the education and support needed to help them through that process.
Additional Information
As a foster parent for Arizona Small Dog Rescue, you'll be partnered with a foster coordinator to determine the right foster pets for you, and can range from puppies and other small dogs to mom and pups, senior dogs, and even medical dogs. If you're fostering a puppy, you'll need to puppy-proof your home. If you're fostering a senior dog, stairs and other obstacles may need to be considered. Other foster pets may require additional considerations depending on unique circumstances.

Supplies

You'll be responsible for providing access to water at all times, and keeping water levels shallow to prevent young animals from drawing. You'll also need to regularly feed your foster pet. Pet store brand dog food can often be more nutritious than grocery store brands, and we will communicate any special dietary needs for your pet. We can also help supply food if requested. Lastly, you'll need to provide your foster pet with a "house". This can be a crate, a bed, the carrier you brought the animal home in, or any other familiar-smelling refuge for the animal away from other pets and areas.
Vet Checks and Returning a Foster Pet to the Shelter

As a foster parent, it is your responsibility to stay in contact with your foster coordinator to schedule vaccinations, vet checks, and other veterinarian services needed for the health and safety of the animal in your care. We appreciate your flexibility and do our best to make scheduling these services as convenient as we can for you!

It is difficult to predict when a foster pet can be returned, and factors like room, health, and other issues are involved in determining potential return dates.
Become a Foster!
If you're interested in becoming one of our dog foster parents, we encourage you to register on the link above to sign up on our Better Impact website portal. If you have additional questions regarding foster, please email foster@azsmalldog.org.
You will also need to complete and understand our foster packet, and will be required to watch a training session on fostering once registered. We reserve the right to conduct a home visit prior to your first foster pet arriving to ensure the animal will have a safe environment in which to thrive. We truly appreciate all of our past, current, and potential foster parents. Please call us if you have any questions!